Notice: luxury packaging is currently unavailable but you are still able to request a gift message at checkout. All of our orders are sent without prices on the invoice.
We have recently changed our packaging options as part of an ongoing commitment to reduce our impact on the environment; we're working towards making our purple bag greener. Our current bag isn't recyclable, so we're no longer automatically including it with online orders. Purple bags are now only included if Luxury Packaging is selected.
In order to select the type of packaging required, click the 'gift options' button at checkout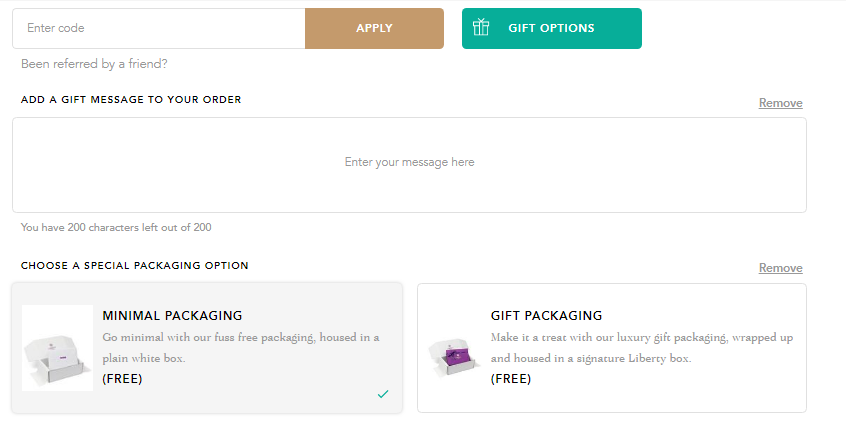 We recognise this is just the start of our mission and are continuing to develop our bag, with the aim to make it fully recyclable.
Whether you're looking to streamline your packaging, or want some extra flourish, choose an option to suit your needs.
LUXURY PACKAGING - CURRENTLY UNAVAILABLE

Make it a treat with our luxury packaging. Nestled in an iconic Liberty box, your order will be wrapped in signature tissue paper with stickers and purple ribbon. Ideal for gifts and extra-special purchases.
MINIMAL PACKAGING

Our fuss free packaging keeps your purchases safe and sound with minimal waste. Your order will arrive in a plain white box, protected by basic tissue paper or bubble wrap.
Please note; smaller, non-fragile items may be delivered in a securely sealed bag or envelope.